Dresswear: Tuxedo Morning / Tail Coat for Black- & White Tie events.
Collection of bespoke tailored tuxedos, tail coats, morning coats, waistcoats, dress wear & formal wear. For weddings, the opera, orchestra, conductors and black and white tie occassions.
All pieces are tailored to personal wishes of our clients matching the correct etiquettes and styles.

Tuxedo from € 750,- / Frock Coat & Morning Coat from € 850,- / Dinner Jackets from € 500,- / Trousers from € 250,-

Gentlemens armoury for day & night.
If a man's suit ranks as his most articulate garment during the day, his formal wear should bespeak eloquence at night. When worn knowledgeably, the classic white and black-tie formal kits present all men at their debonair best. Their black and white formats were intended to act as a foil to the woman's more glamorous, colorful finery.
Tailor Made Morning Coat With Waistcoat And Morning Trousers Black Herringbone
Bespoke Morning Coat Classic Black Herringbone Grey Morning Stripe Trousers
Tailored Black Tailcoat Satin With Faced Peaked Lapels & Low Cut Waistcoat
Tailcoat Vintage Style Black Floral Patern With Matching Satin Waistcoat With Laced Fastening
Morning Coat Groom Wedding Bespoke Blue Frock Coat Grey Trousers
We can tailor any model, cut and style of Tuxedo, Dinner Jacket, Tail and Morning Coat you prefer. These are models we and our clients like. Please click to see more samples and design ideas. You can bring your own designs, visuals and/or existing pieces as input as well.
nehru jacket suit for orchestra conductors musicians flanel
Frock Coat Royal Blue Grey Trousers Waistcoat Herringbone Double Breasted Hand Made
Nehru Mao Suit Jacket Black Lightweight Mohair Crease Free for Travelling
Tuxedo Dinner Jacket Cerutti blue - shawl collar black - skull lining Gladsons Flash
Bright Navy Tuxedo Shawl Collar Tailored Midnight Blue Fancy
Tuxedo Smoking Bespoke Midnight Dark Navy Blue With Black Facing 1 Button Peak Lapel Holland & Sherry 340grm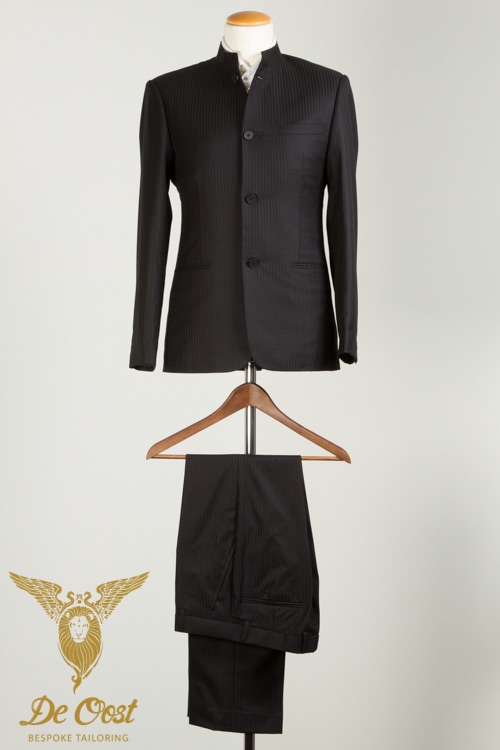 Nehru Jacket - Suit Black Herringbone wool for Muscians Orchestra Conductors
Smoking Jacket Shawl Collar Hand Made Bespoke Midnight Blue With Black Satin Accents
Navy Blue Velvet Velours Tuxedo and Black Self Stripe Trousers
Dinner Jacket Bespoke Tailored with satin shawl collar
Black Tuxedo With Contrasting Satin Shawl Collar