Gabardine (or Gaberdine) is a smooth cloth in fine to medium worsted yarns that is so tightly woven it is soil-resistant and almost water-resistant. The twill rib is pronounced due to a weave with more warp threads than weft. It is usually in solid colours. This cloth is a popular suiting for all uses, including formal dress. Gabardine is also used for tailoring coats, raincoats, uniforms and men's shirts.
Gabardine suiting fabric samples from the Holland & Sherry collection HS 1196 Force 10 Merino. Gabardine suiting fabric from this bunch comes in 280grm 9oz. This is a strong, firm cloth made with a densely set warp-faced prunelle weave. The face of the fabric features a prominent diagonal rib, whilst the reverse of the fabric is smooth. Holland & Sherry Gabardine comes in a wide colour palette ranging through blues, greys, browns, and includes a rich, warm orange and red.
History
The word Gabardine or Gaberdine has been used to refer to a "dress, covering" since the 1590s. It was originally a long, loose cloak or gown worn in the Middle Ages, but later it would signify a rain cloak or protective smock-frock. It has been used to mean "closely woven cloth" since 1904.
Gabardine was invented in 1879 by Thomas Burberry, founder of the Burberry fashion house in Basingstoke, and patented in 1888. The original fabric was waterproofed, before weaving and was worsted wool or worsted wool and cotton, tightly woven and water-repellant but more comfortable than rubberized fabrics.
Burberry clothing of gabardine was worn by polar explorers, including Roald Amundsen, the first man to reach the South Pole, in 1911, and Ernest Shackleton, who led a 1914 expedition to cross Antarctica. A jacket made of this material was worn by George Mallory on his ill-fated attempt on Mount Everest in 1924.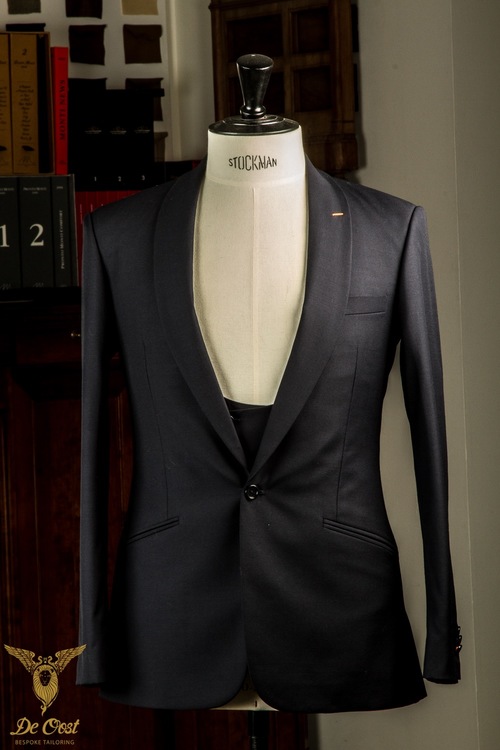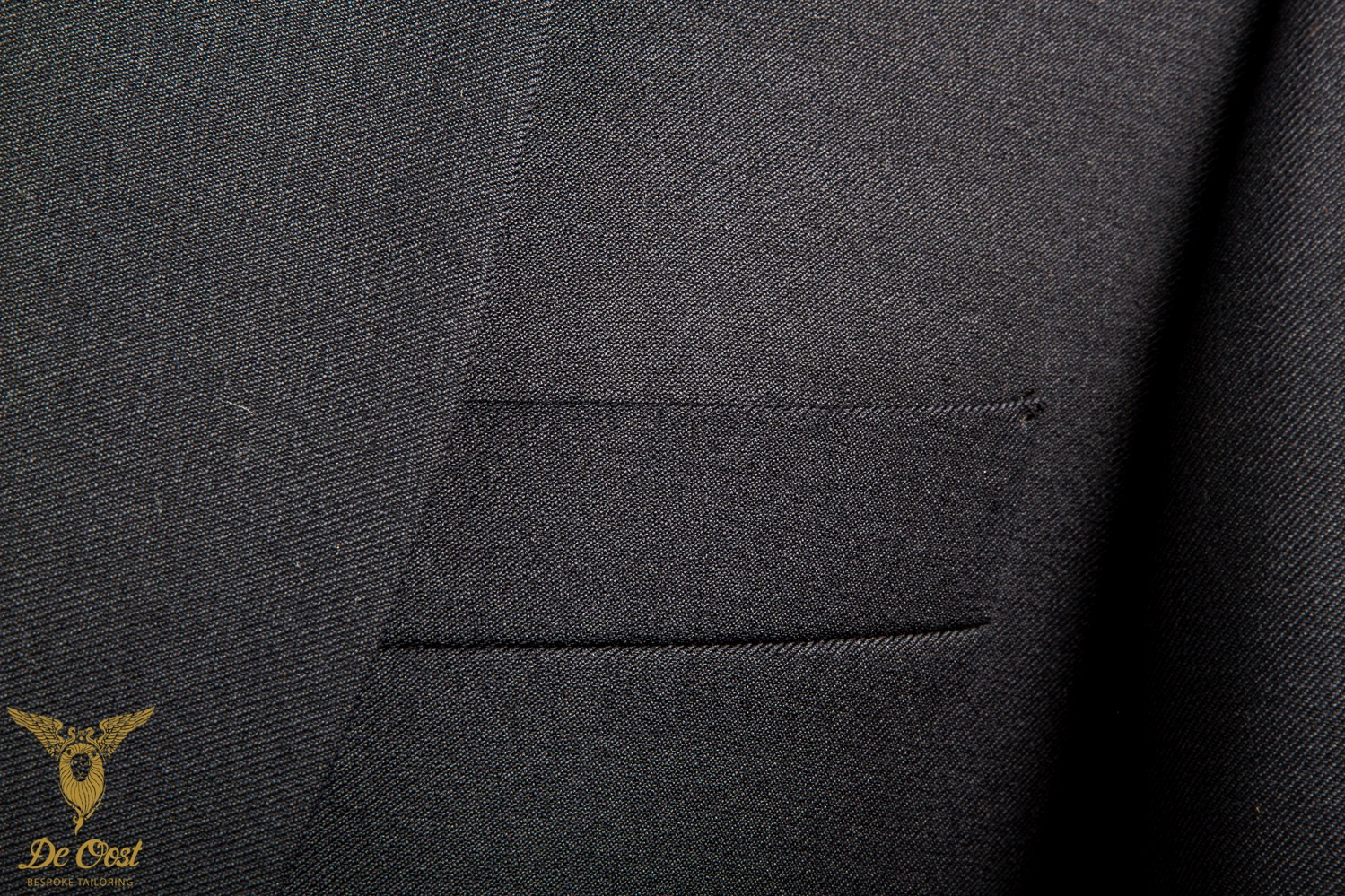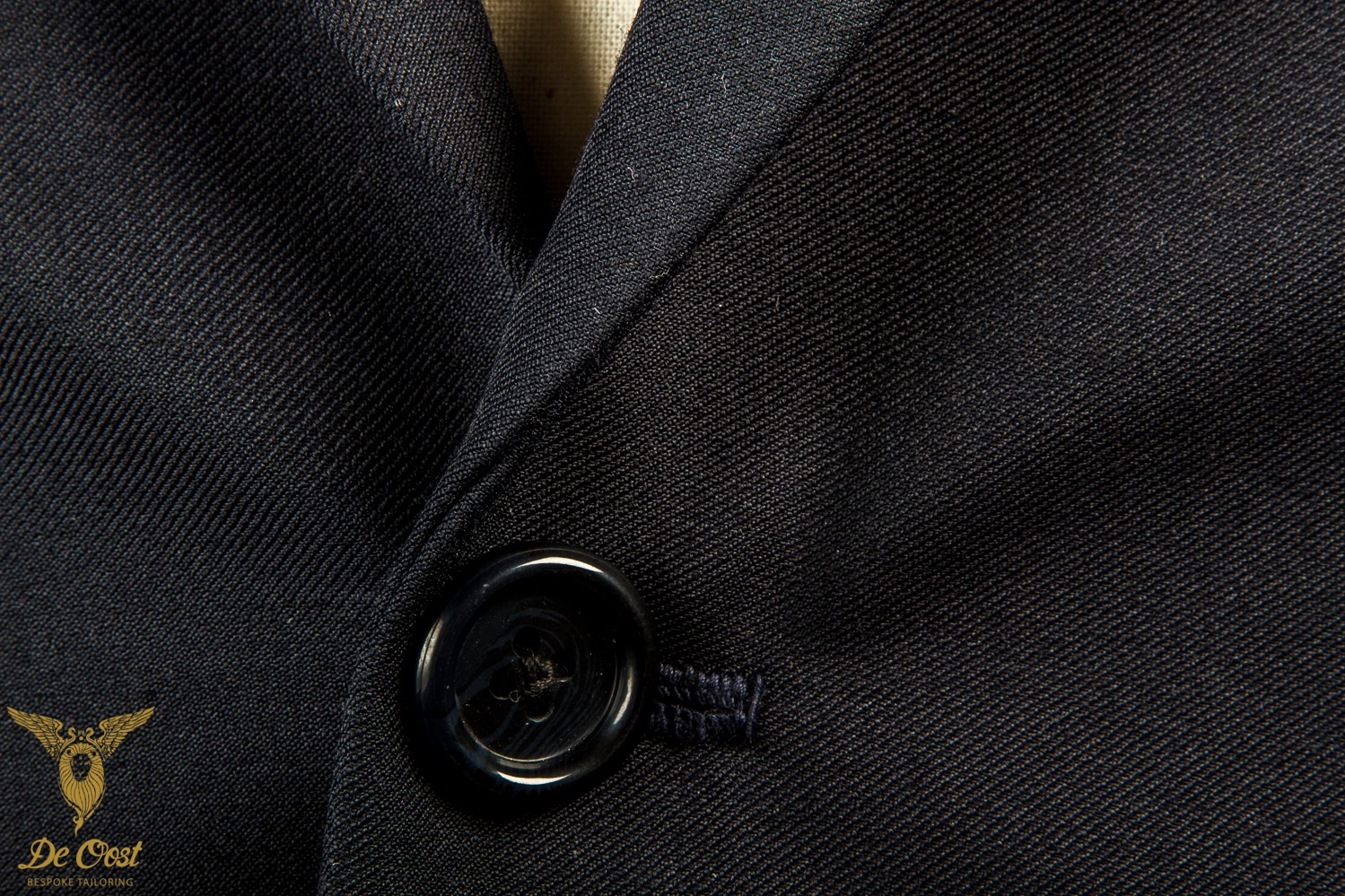 Racing green Gabardine suit with peak lapels and slanted pockets.
And, a 1-button contemporary navy blue suit jacket with shawl collar slanted pockets jetted & double breasted waistcoat.
Technique
The fibre of Gabardine can be either worsted cotton, texturized polyester, rayon or a mixture. Gabardine is woven as a warp-faced steep or regular twill. With a steep twill, it has a weave of 63 degrees. Gabardine has single diagonal lines on the face, raised twill. Gabardine always has many more warp than weft yarns. Because the fabric is tightly woven, it is firm, durable and rather lustrous. Gabardine comes in different weights.
Cotton gabardine is often used by bespoke tailors to make pocket linings for business suits, where the pocket's contents would quickly wear holes in the usual flimsy pocket lining material. Clothing made from gabardine is generally labeled as being suitable for dry cleaning only, as is typical for wool textiles. Gabardine may also refer to the twill-weave used for gabardine fabric, or to a raincoat made of this fabric.
Taupe solid Gabardine trousers.